Tom Regis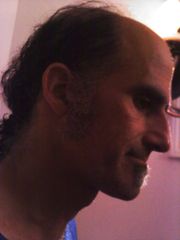 Tom Regis was born and raised on the north shore of Boston, Massachusetts. His musical mother introduced him to Beethoven, Chopin, and the Bumble Bee Boogie when he was a toddler. The music of the Beatles, Dave Clark Five, Joni Mitchell, Santana, the Allman Brothers, Led Zeppelin and others then became the sound track of Tom's life as a child and teen. Tom studied classical music during this period and was also occupied playing drums and guitar.
After one year of college, Tom decided to make music his profession and life long dedication. His musical course then veered towards New England Conservatory and the tutelage of Ran Blake, Madame Chaloff, Charlie Banacos, Jaki Byard, and Joseph Manieri. While taking a year off to study privately, Tom met Eddie O'neill, a drummer from Puerto Rico, who introduced Tom to the hypnotic pulse of Latin grooves. Performing, composing, arranging and teaching Afro-Cuban style music became an important part of Tom's musical life. In addition to other salsa and world music recordings, Tom produced, performed, and composed for the critically acclaimed LAtino LAtino CD for Rhythm Safari records. In 1994, Tom founded the Jerusalem Salsa Band, an Israel based group whose recording Oye Me Israel, became popular world wide in salsa dance clubs and was featured in the television series La Femme Nikita. Returning to Los Angeles in 1998, Tom worked with Celia Cruz for two years as part of Celia's west coast orchestra.
Tom's musical journey also led him into the recording studio scenes of New York City, Los Angeles, and Tel Aviv.  In the 80's, Tom was a composer and producer at Elias Associates in New York. There, he composed and arranged many commercial underscores, jingles, and film cues. During this period, Tom worked with many great names of the music world including Michael Brecker, Randy Brecker, Will Lee, Marcus Miller, Phoebe Snow, Patti Austin, Omar Hakim, Danny Gottlieb, Michael Bolton, John Taylor (Duran Duran), Grace Jones, Marianne Faithful and others.  While at Rhythm Safari Records in Los Angeles in the early 90s, Tom recorded for Tone Loc, Rafi, Gilberto Gil, Cheb Mami, Teddie Pendegrass, Johnny Clegg and others. In the mid to late 90s,  while living in Israel, Tom performed and recorded with many of the top artists including Ofra Haza, Rita, Shlomo Artzi, and Yigal Bashan.  Tom also performed with Eddie Gomez (Bill Evans) at the Cinemateque Jazz Festival (see included video links). 
Upon returning to Los Angeles in 1998, Tom worked at Summerfield Music, composing dozens of media cues used in television shows including the West Wing, Oprah, One Life to Live, Reba, and others.  In 2001, Tom attended Southwest University School of Law, graduated in 2004 and practiced law for five years while continuing to compose and perform. From 2005 to 2011, Tom returned to his early rock and blues roots, working with guitarists Rick Vittallo and Rick Whitfield, and performing and composing alongside gospel artist Eileen Seals and the Church of Destiny Band.
In 2011, Tom completed "From Beethoven to Bill Evans: WESTERN HARMONY SIMPLIFIED," a book outlining the structure and components of Western diatonic harmony. The book integrates Tom's understanding of harmony from a both jazz and classical perspective. The book is now available for purchase on Createspace (Amazon).  Also in 2011, Tom moved to South Florida, establishing a musical presence including various original projects, a four year residency as keyboardist at the Funky Biscuit, an ongoing mentor/teacher position at the Milagro Center in Delray Beach, and his most current project, the Delray Jazz Collective. For the DJC and other local artists including the Jon Zeeman Band, Tom has happily returned to his first band instrument, drums.